Extruded fodder mix
Rapu — Extruded fodder ingredient
INCREASES MILK YIELD
The molecular structure of the raw material breaks down during extrusion, thus doing part of the work of the animal's digestive process. The cow can direct energy towards milk production instead of breaking down nutrients. Extruded fodder promotes the complete uptake and utilisation of the necessary nutrients, ensuring an efficient feeding process.
BALANCED SOURCE OF PROTEIN, FAT AND STARCH
The combination of beans and rapeseed provides an excellent balance of protein, starch, and fat. Rapeseed is high in methionine, whereas beans are high in lysine. Both are well metabolised when combined in the same ration, which is an important factor in feeding pigs. It increases productivity in chickens and cows.
REDUCES THE RISK OF ACIDOSIS
The starch in beans is digested more slowly than the starch in grains. This allows to reduce the amount of grain added and creates a healthier environment in the rumen.
PROTECTS AGAINST DISEASE
Heat treatment of the fodder eliminates the presence of mycotoxins, protecting the animal from disease.
"Providing the animal with an extruded fodder actually reduces the cost price of the milk, as the fodder is more easily digested and gets completely processed. This allows a reduction in the ration fed. Every farmer nowadays knows that milk yield depends on the animal's well-being. Quality extruded fodder is one of the factors that ensure this."
SANITA CELITANE— SIA IECAVNIEKS & CO PRODUCTION MANAGER
WHAT IS EXTRUSION?
During the extrusion process, a rapid biochemical transformation of the raw material takes place, breaking down molecular structures, which means that the extruder does some of the work that an animal would have to do itself and use a lot of energy, e.g: Starch, which is a polysaccharide, is transformed into common monosaccharides and dextrins. Some sugars are immediately absorbed by the animal after starch breakdown, leading to higher milk yield.
Protein is broken down and amino acids are released, which significantly increases protein digestibility. This process allows the animal to spend less energy on the uptake of individual amino acids, while energy is directed towards milk production.
The extrusion process increases the amount of undegradable intake protein, which ensures a balanced and complete digestibility of the fodder, facilitating the complete intake and utilisation of the essential nutrients, facilitating an efficient feeding process.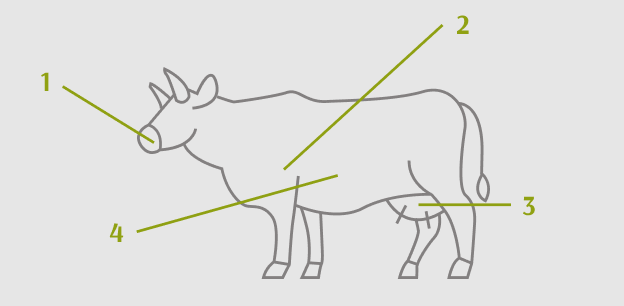 1: Amount Of Dose Decreases. 2: The Extruder Has Done Part Of The Work Of An Animal's Digestive System . 3: More Energy Is Left For Milk Production. 4: Extruded Food Is Easier To Digest And Absorb
RAPU COMPOSITION. AVERAGES VALUES IN NATURAL SAMPLE
If you are interested
Feel free to contact our team. We will help you and answer all your questions.
ILZE LĪBIETE — PUTNIŅA
Commercial Director
---